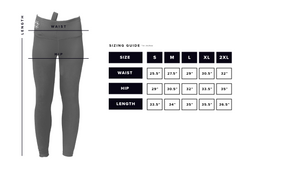 Concealed Carry Leggings
TPE Protected Holster Pockets
Made of Spandex and Nylon
Thick, Stretchy, Material for Full Coverage and Maximum Comfort
Concealed Carry Leggings by Tactica Defense Fashion
Concealed carry leggings are difficult to find, and finding some that give you comfortable fit and maximum security is an added obstacle. Luckily Tactica Defense Fashion has engineered these concealed carry leggings to fit all the needs of any woman who carries. These versatile leggings are stylish enough to wear out on the town, rock at the gym, or just to take a nice walk outside, and it's durable material makes for quality guarantee. 
If carrying a holster gets too bulky and you want to keep your firearm on your person, you have come to the right place.
Concealed Carry Leggings - Revolutionary Safety and Comfort
Your safety is our greatest concern, so we offer two pocket holsters in our concealed carry leggings that have a strong layer of TPE polymer sewn in to protect your trigger guard. These holster pockets allow you to carry in the 12:30 or 4:30 position. And the other pocket is perfect to hold your phone or credit cards! You will have peace of mind knowing your trigger is protected while using our leggings.
For However You Do Success
Durable enough to wear anywhere, you no longer have to worry about panty lines at the gym or thin material when you bend over!
Our flawless blend of spandex and nylon creates a highly flexible and slimming material that is soft to the touch. The full length allows you to dress up in a pair of heels, or down in some hiking shoes. If you're bothered by thin leggings that are practically see-through, our leggings offer full coverage without being too thick or bulky.